Saint John Bosco was born in the Piedmont region of Northern Italy in 1815, the year that Napoleon's armies were finally defeated and driven out of Italy.
Brought up in a peasant family and raised by a widowed mother, John endured many hardships in pursuit of an education and growth in the Christian life. He demonstrated great initiative and creativity at a very early age and learned magic tricks and acrobatics in an attempt to gather an audience so that he could evangelize and catechize the children and adults of his town.
After his ordination to the priesthood, he settled in the industrial town of Turin which was flooded by peasants in search of work.
'Don' Bosco focused his efforts on ministry to the orphans and working children of the city and established homes called oratories where they could live, learn productive trades, and be educated in the faith.
In the face of much resistance by anti-clerical politicians and unfriendly churchmen, his oratories grew so quickly that by 1868 over 800 boys were under his care.
As if this work were not enough, he wrote and printed countless pamphlets that popularized Catholic teaching and answered the objections of anti-Catholics and secularists and as a result, several attempts were made on his life.
Miracles reported by numerous eyewitnesses accompanied his work, including the multiplication of food. He was also known to receive supernatural guidance from God in the form of vivid dreams which he often recounted to his companions.
To ensure the continuation of his work, St John Bosco founded a religious congregation named in honour of one of his favourite saints, St Francis de Sales.
This holy saint died in 1888, but today John Bosco's Salesians continue his work all over the world.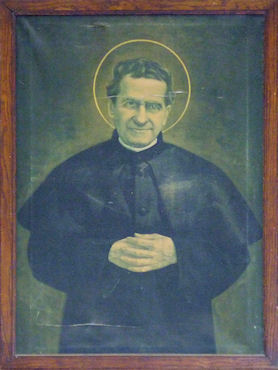 Class Saints
Every year, each class research and choose an unfamiliar saint to represent their class. The chosen saint is celebrated throughout the year and used as an example of how we can deepen our faith. We believe that it is important to try and extend our knowledge of saints and how they are shining examples of how to live our lives listening for the Call of God. How is God calling you? 
Reception – Saint Mark the Evangelist
Mark was one of Jesus' original disciples. His religious journey was believed to have begun when he encountered Saint Peter the apostle where he was converted and taken as a companion and an interpreter. Mark wrote sermons of Saint Peter thus composing the gospel according to Mark before he left for Alexandria in the third year, that is in the year 43 AD.
According to Acts 15:39, he went to Cyprus with Barnabas after the council of Jerusalem. Then in 49 AD, Saint Mark the Evangelist founded the Church of Alexandria and became the first bishop of Alexandria. He is regarded as the founder of Christianity in Africa. He also set up a Christian school in Alexandria.
Patron Saint of Lions, Lawyers, Secretaries, Pharmacists, Prisoners, Interpreters, opticians and more.
Feast Day: 25 April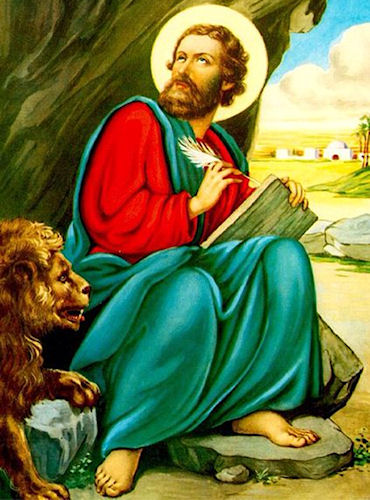 Year 1 – Saint Francis of Assisi
Born in Assisi in Umbria in 1181 , history states that Francis abandoned a life of luxury for a life devoted to God after hearing his voice and commanding him to rebuild the Christian church and live a life of poverty. Francis placed importance in imitating Christ and carrying out his work through his affinity for the Eucharist. He also believed that nature was a reflection of God and had a particular love for all of God's creatures.
Francis is credited with creating the first Christmas nativity scene after visiting the historical place of Christ's birth on a pilgrimage to the Holy Land where he reflected upon baby Jesus being laid in a crib in a stable in Bethlehem. This event deepened his devotion to a world of poverty, simplicity and humility which inspired Francis to form the Franciscan Order to replicate these virtues.
Patron Saint of Animals, Merchants and Ecology.
Feast Day: 4 October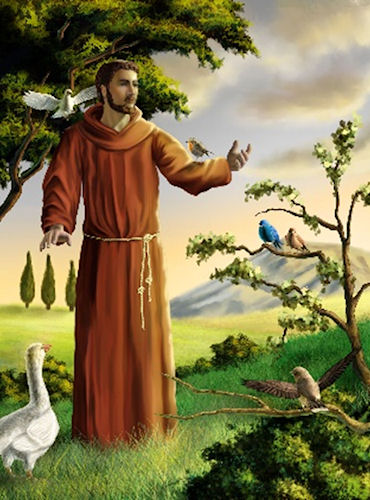 St Patrick of Ireland is a world-famous saint. He was born in Roman Britain and when he was fourteen, he was captured by Irish pirates during a raiding party and taken to Ireland as a slave to herd and tend sheep. At the time, Ireland was a land of Druids and pagans but Patrick turned to God and wrote his memoir. Patrick's captivity lasted until he was twenty, when he escaped after having a dream from God in which he was told to leave Ireland by going to the coast. There he found some sailors who took him back to Britain and was reunited with his family.
A few years after returning home, Patrick saw a vision that encouraged him to study for priesthood. He preached throughout Ireland for forty years and it is claimed that many people converted to Christianity after hearing Patrick's sermons. He often used shamrocks to explain the Holy Trinity.
Francis died at Saul, site of the first Irish church that he had built.
Patron Saint of Animals, Merchants and Ecology.
Feast Day: 17 March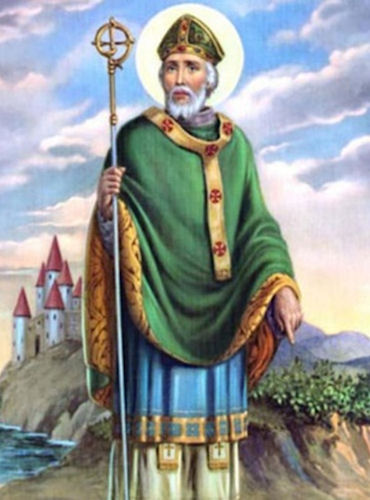 Year 3 – Saint John the Apostle of Charity
St John was one of the Twelve Apostles and was called by Jesus to begin his life of ministry. John is believed to be the longest living apostle and the only one not to die a martyr's death.
John was the only one of the Apostles that did not leave Jesus alone on his crucifixion; he stood faithfully at the cross. He was called the Apostle of Charity and in the Gospel of John, he is referred to as 'the disciple whom Jesus loved.' He is often depicted in art with an eagle which symbolises 'the height that he rose to in his gospel."
In art he is often seen gazing above, looking up into heaven.
Patron Saint of love, loyalty, friendship and authors.
Feast Day: 27 December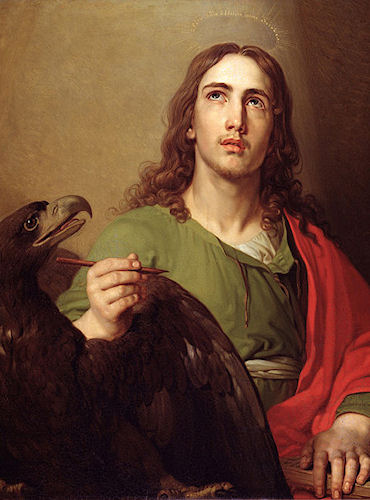 Year 4 – Saint Brigid of Ireland
Throughout her life, St. Brigid of Ireland was known for her compassion and charity for others, as well as her extraordinary spirituality. Her devotion to God and desire to do His will was noted from a young age, despite her unusual upbringing. Her example was one of tenderness and love for the poor and underprivileged in Ireland.
St. Brigid entered the convent of St. Macaille and made her vows to dedicate her life to God. After making her vows, it is said that St. Brigid's beauty was not only restored, but that she was made to be even more beautiful than before, as a bride of Christ. News of her good works spread throughout Ireland. Young girls were attracted to her lifestyle and began joining her in religious life and the service of God. St. Brigid founded many convents throughout Ireland. The most famous she founded is in the County Kildare. In 470 she founded a double monastery, which housed monks and nuns.
Patron Saint of Ireland, dairymaids, cattle, midwives, Irish nuns and newborn babies.
Feast Day: 1 February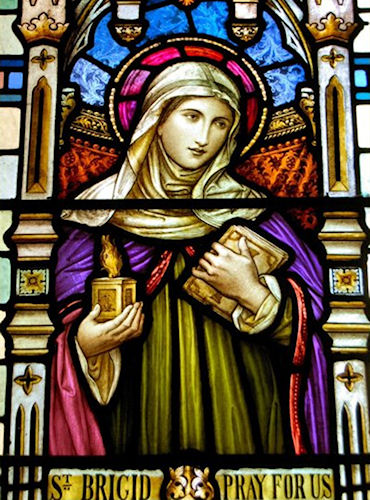 St. Cecilia was born during the second century to a very rich family. When she was young, she married a man named Valerian. Husbands and wives get to share a very special gift when they are married. However, St. Cecilia wanted to save this gift for Jesus alone. On the night of Cecilia's wedding she told Valerian she was saving the special gift for Jesus and that her guardian angel was protecting it. At her wedding she "sang in her heart to the Lord".
She is said to have been beheaded with a sword. An early Roman Christian church, Santa Cecilia, was founded in the fourth century in the Trastevere section of Rome, reputedly on the site of the house in which she lived. A number of musical compositions are dedicated to her, and her feast day has become the occasion for concerts and musical festivals.
Patron Saint of music and musicians.
Feast Day: 22 November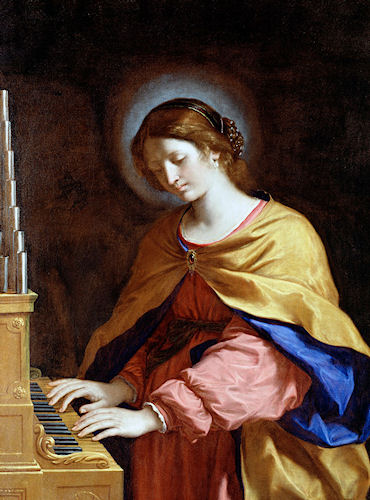 St. Genevieve was a fair and courageous peasant girl. When she was seven-years-old, St. Germanus, Bishop of Auxerre visited Nanterre on his way to Britain. While he was there, many people flocked to receive his blessing. The young Genevieve stood amid a crowd which had gathered around the man of God who singled her out and foretold her future sanctity.
The next day, Germanus asked Genevieve if she had remembered the promise she made to God. She did and proclaimed she would always fulfil it faithfully. He presented her with a cross engraved brass medal to always wear around her neck, as a reminder of the consecration she made of herself to God. Encouraged by Germanus, Genevieve dedicated her life to prayer, practices of devotion and acts of penance. When she was only 15-years-old, she met with the Bishop of Paris and asked to become a nun. From this moment, she also began praying continuously and fasting, eating only twice a week, as a sign of her complete dedication to the Lord.
Following the death of her parents, Genevieve went on to live with her grandmother in Paris and travelled, sharing the faith, performing acts of charity, praying for the sick. Her dedicated Christian way of life was filled with the signs of the Holy Spirit working through her.
Patron Saint of Paris and disasters.
Feast Day: 3 January